Toronto Real Estate Lawyer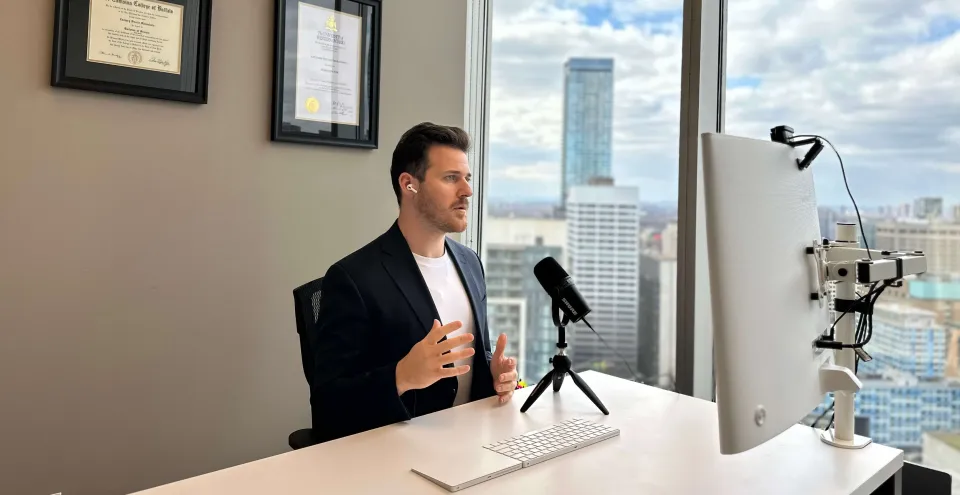 Experienced Real Estate Lawyer in Toronto
Zachary Soccio-Marandola is an experienced real estate lawyer in Toronto, Ontario. He provides comprehensive legal services for all types of real estate matters:
Residential Real Estate Closing (Purchase or Sale)
Commercial Real Estate Closing (Purchase or Sale)
Refinancing
Title Transfers
Private Mortgages (Lender or Borrower)
Land Development
Property Disputes
With over a decade of experience in the real estate industry, Zachary is a trusted advisor to his residential, commercial, and investor clients. His practice is built on providing careful attention to each file and prioritizing communication for a better client experience.
---
---
Specialized Expertise: Zachary focuses exclusively on real estate law. This focused approach ensures you receive comprehensive and expert advice tailored to your property needs.
Hands-On Approach: Every document is meticulously reviewed and executed by Zachary, guaranteeing a personalized touch. No assistants or clerks - just direct and professional service.
Accessibility: You're encouraged to call or email when you have questions - without the fear of additional fees. And when you do call or email? He's the one picking up the phone and writing the responses.
Broker Experience: With over 7 years as a real estate broker, Zachary has seen both sides of the transaction. This perspective offers a holistic view of your real estate matter, capturing nuances that others might miss.
💡
Choosing the right real estate lawyer is all about value.
Expert legal guidance is essential to protect your interests and avoid greater costs down the road.
Residential Real Estate Transactions
Zachary offers comprehensive support for home buyers and sellers, providing expert review of legal documents and purchase agreements, meticulous title searches, and diligent coordination with financial institutions. He strives to streamline the closing process, handling all aspects of your residential real estate transaction - ensuring clarity and ease from the first handshake to the final signature.
Purchasing Residential Property
Providing expert guidance through the complexities of buying a home or a secondary property, ensuring a transparent and efficient process.
Selling Residential Property
Ensuring that the transaction is executed accordingly and proactively addressing challenges to secure your successful sale.
Refinancing Residential Property
Assisting homeowners in refinancing their property, offering insights to secure favorable terms and improve their financial standing.
Transferring Title of Residential Property
Facilitating the smooth transfer of property titles, safeguarding clients' interests during this crucial legal step.
Residential Leases
Crafting and reviewing residential leases with meticulous attention to detail, protecting both landlords and tenants in their housing agreements.
---
---
Commercial Real Estate Transactions
Commercial real estate embodies a unique set of challenges, where the stakes are high and the consequences extensive. Zachary's services cater to this sector, offering expert guidance in the purchase, sale, leasing, financing, and development of commercial properties. He facilitates thorough due diligence, ensures compliance with local legislation, and negotiates terms that align with clients' business strategies. Whether you're an investor, a business owner, or a commercial landlord, his objective is to protect your interests with strategic foresight and legal acumen, so you to focus on the success of your enterprise.
Purchasing Commercial Property
Navigating the intricacies of commercial property purchases, he provides clients with astute guidance to secure sound investments that align with their commercial goals.
Selling Commercial Property
Positioning clients for successful outcomes in the commercial property market, he leverages strategic insights to facilitate profitable sales.
Refinancing Commercial Property
Optimizing financial performance through commercial property refinancing, he crafts tailored solutions that enhance his clients' real estate portfolios.
Commercial Leases
Crafting commercial leases with precision, he ensures that every clause serves his clients' interests, providing security and flexibility for their commercial ventures.
Investing in Real Estate
Capitalizing on market trends, he delivers savvy advice for real estate investment, empowering clients to expand their assets and financial growth.
Developing Real Estate
Facilitating the process of real estate development ventures, he ensures legal precision from the ground up, driving projects towards strategic success.
---
---
Legal Fees
Traditional real estate law firms often present a web of legal fees that can complicate your real estate transactions. The final bill almost never resembles the quote they gave you.
Our approach is different. With our transparent, flat-fee closing costs, you'll understand exactly what you're paying for, ensuring no surprises and clear value for expert legal services. This clarity is part of our commitment to your peace of mind during significant property investments.
Purchase
Our legal fees for Purchase Transactions start at $1,499.00.
Sale
Our legal fees for Sale Transactions start at $1,299.00.
Refinance
Our legal fees for Refinance Transactions start at $1,199.00.
Title Transfer
Our legal fees for Title Transfers start at $1,199.99
Legal Fee Calculator
Use our calculator to receive a no-obligation quote for your real estate transaction, including a breakdown of closing costs:
Other Real Estate Legal Services
Beyond real estate transactions, there are other areas of real estate law where specialized legal support is important.
Land Development
The land development process can be difficult to navigate. Beyond the substantial paperwork, the development process requires managing complex planning legislation, local politics, professional opinions, and public perception. Zachary leverages experience and creativity to guide his clients towards a successful application.
Minor Variance Applications
Zoning By-Law Amendments
OLT & TLAB Representation
Property Disputes:
When a property dispute arises, it creates a difficult and stressful situation for the owner. It's important to understand your legal rights and the potential consequences of your action to protect your property value. Zachary's role is to act as a valuable advisor to managing conflict and implementing resolution strategies.
Because of the distinct nature of land development and property dispute cases, we provide a free consultation to assess your needs and discuss pricing and the next steps.
---
---
Contact Us
To learn more about Zachary Soccio-Marandola's legal services and how he can assist you with your real estate matters, we invite you to get in touch.
His commitment to delivering value and clarity makes him a valuable legal asset to have on your side during your next real estate transaction.
---
Free Consultation
---
Frequently Asked Questions (FAQ)
How much is a real estate lawyer in Toronto?
For real estate purchases, legal fees start at $1499. For real estate sales, legal fees start at $1299.
How much do real estate lawyers charge per hour in Ontario?
Zachary Soccio-Marandola charges $300 per hour for real estate files such as complicated transactions, land development and property disputes.
What is the role of a real estate lawyer in Ontario?
A real estate lawyer in Ontario facilitates the entire real estate transaction, including preparing closing documents, managing fund transfers, and protecting the clients' interests during the purchase or sale of property.
Do I need a lawyer when selling my house in Ontario?
In Ontario, it is a requirement to use a lawyer when buying or selling real estate. Only specialized real estate lawyers have the ability to register the transaction through Teraview.
Who pays land transfer tax in Ontario?
In Ontario, the buyer is responsible for paying land transfer tax in a real estate transaction. If the property is located in Toronto, the buyer pays both provincial ;and transfer tax, and municipal land transfer tax.
Is title insurance mandatory in Ontario?
Title insurance is not required in Ontario. However, most lenders require a title insurance policy as a condition of their mortgage. Therefore, if you're purchasing a property with a mortgage, it will likely be required.
---